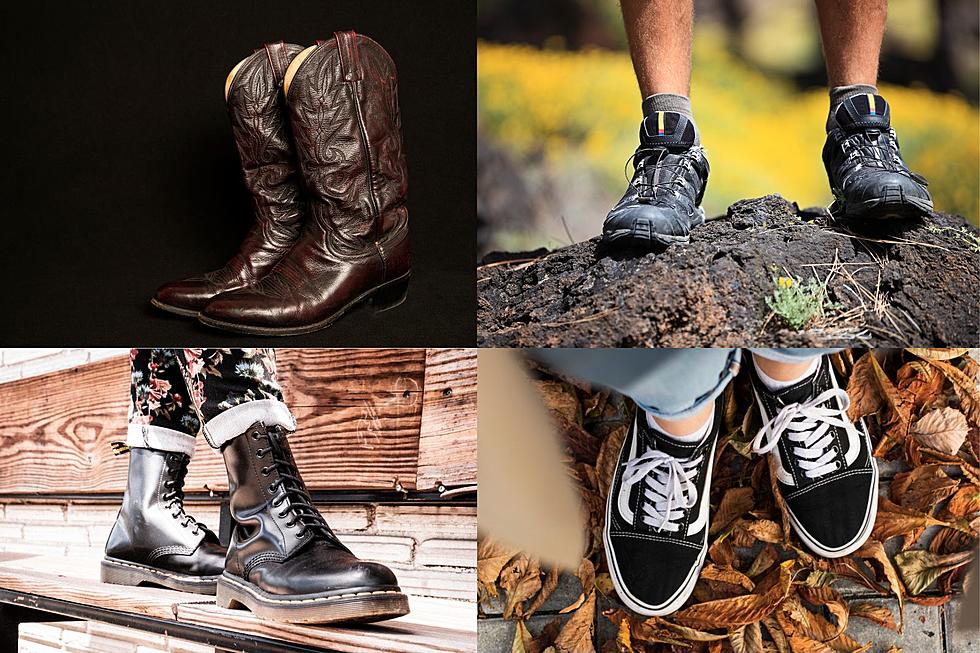 Different Shoes You See in Montana (And What They Mean)
Canva
Yesterday I read this article "Here are the Many Types of Coats You'll Need to Live in Montana," and wanted to write a similar article except for shoes— the problem is the word need in that headline. While coats are nonnegotiable in the Treasure State, Montanans can make do when it comes to footwear despite the weather. Here are the different kinds of shoes you see in Montana:
Flip Flops
Not the most common shoe in Montana, but it's worth mentioning those who not only wear shorts all winter but also sport a pair of these to match. Once I even met a shoeless Montana in January who claimed to never wear them, I actually believe him.
 Steel-Toe Cowboy Boots
Meeting OSHA and ASTM standards, these boots are ready for the ranch, farm or any place where hard work is done. These boots capture the spirit of Montana, until 5pm anyway.
Designer Cowboy Boots
This definitely needed a separate category. I'm not saying people who wear these are cowboy posers, but I am saying that all cowboy posers own a pair of these. If you haven't seen any of these you might not have been to Bozeman lately.
 Vans
I've noticed a lot of Vans around and have on many occasions run into people wearing the same pair as me. Popular with Montana's snowboarders and other extreme-sports enthusiasts.
Dr. Martens
When it's snowing outside but you still need to maintain your punk cred, these boots are there for you.
Hiking Shoes
Though made for hills and mountains, you'll still see plenty of these downtown, because I guess you never know when you'll get the urge to walk up some dusty trail for the sake of a sweet view.
The Top 10 Best Lakes In Montana
See What We Think Are The Top 10 Best Lakes In Montana
15 Montana T-Shirts to Wear and Show Your Montana Pride
Whether you're looking for humor or a great design, wearing t-shirts that celebrate Montana is a surefire way to show your love for the state.