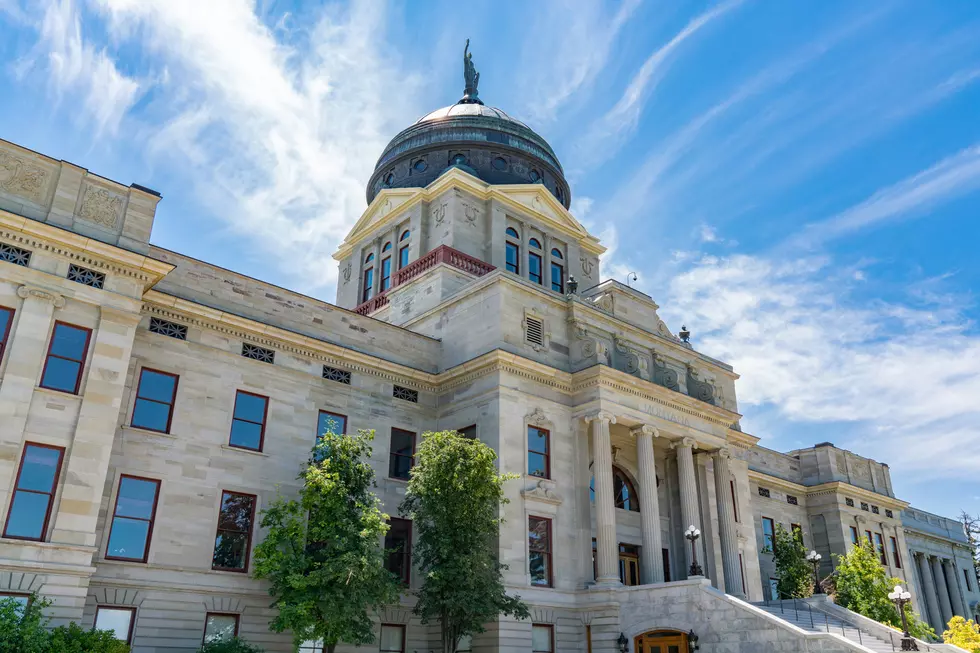 Montana Supreme Court Justice Slammed for Violent Rhetoric at Capitol
Credit: pabradyphoto
Missoula, MT (KGVO-AM News) - Former Montana Supreme Court Justice James Nelson gave a prepared speech on Wednesday in the State Capitol Rotunda that contained what was termed 'violent political rhetoric' regarding the battle between the Gianforte Administration and the Montana judiciary, that he termed 'a jihad' and 'a fight to the death'.
Former Supreme Court Justice Lashes out with 'Violent Political Rhetoric'
"Make no mistake, make no mistake," began Nelson. "This challenge is and will continue to be a fight to the death against the jihad focused on our third branch of government. A war perpetrated by the super majority of Freedom Caucus at the legislature, the governor in the Attorney General."
Following the statement by former Justice Nelson, there were loud cheers by the majority of the spectators, and some boos and catcalls from others.
A Republican Spokesman said Nelson's Comments were Deliberately Inflammatory
KGVO News reached out to Republican spokesman Kyle Schmauch for his reaction to the fiery statement from Nelson.
"We need to keep the violent rhetoric out of our politics and our elections and our government," said Schmauch. "That's unfortunately the type of rhetoric that we saw from James Nelson today. He's a former Montana Supreme Court judge. He's also the Justice who authored the 1999 Armstrong decision, which has been in the news a lot lately. That's the Montana Supreme Court opinion that the Montana Constitution guarantees a right to an abortion, even though the word abortion appears nowhere within the Montana Constitution."
Schmauch intimated that Nelson knew exactly what he was doing in using the type of inflammatory rhetoric with his comments.
"He was giving prepared remarks in front of a big crowd at the Capitol, and as far as talking about engaging in a 'fight to the death' with the legislature and the governor and the Attorney General over political policy differences, he was talking about waging war in a jihadist fashion as well, and that's pretty extreme rhetoric coming from anyone at the Capitol complex, but especially from someone as high ranking as a former Justice at the Montana Supreme Court."
Schmauch said in his view, Nelson's remarks were deliberately provocative and tailored to shock the audience gathered in the Capitol Rotunda.
"There were a couple of hundred people cheering him on as he made these violent comments today," he said. "You have state lawmakers walking to meetings between the crowd as he's doing this, the governor's office is just seven yards down the hallway from where he's making these comments about a fight to the death with legislators and the governor; right as they're literally within yards or in some cases feet of those elected officials at the Capitol Complex."
Schmauch Included Reactions from Republican Legislators
Nelson's comments reflect the battle during the legislative session over attempts to pass laws that would make the Montana Supreme Court election partisan in nature. Currently, all judicial elections are strictly nonpartisan, so that those elected to the judiciary may ideally stay politically neutral.
Schmauch did not say what actions the Republican Party might take against the former Supreme Court Justice, however, some comments from Republican legislators regarding Nelson's speech are included below:
"Violence has no place in our politics, in our elections, or in the policymaking process. We are alarmed and disturbed that a former Montana Supreme Court justice would engage in such violent rhetoric, including naming specific elected officials in his comments about a 'fight to the death.' We condemn Justice Nelson's violent rhetoric and call on all Montanans to keep violence out of our politics," said Senate President Jason Ellsworth, House Speaker Matt Regier, Senate President Pro Tempore Ken Bogner, House Speaker Pro Tempore Rhonda Knudsen, Senate Majority Leader Steve Fitzpatrick, and House Majority Leader Sue Vinton jointly.
"I served two tours in Iraq fighting in a war, including against jihadists. Suggesting that political differences in Big Sky Country are in way similar to war or jihad is as wrong as it is concerning," Sen. Ken Bogner, a Marine Corps veteran, added.
Get to Know Missoula A to Z
All about Missoula, Montana.
LOOKING BACK: Photos of Missoula and How It's Changed
Check out these photos of how Missoula has changed over the past decade.